Brazil: neoliberalism versus democracy
Alfredo Saad-Filho & Lecio Morais
A political analysis of the paradox of modern-day Brazil, charting the political transition from military rule to democracy, and to neoliberalism.
Value and Crisis: essays on labour, money and contemporary capitalism
Alfredo Saad-Filho
Value and Crisis brings together selected essays written by Alfredo Saad-Filho. This book examines the labour theory of value and its implications for the nature of neoliberalism, financialisation, inflation, monetary policy, and the crises of contemporary capitalism.
Available from Haymarket Books >
Marx's 'Capital'
Ben Fine & Alfredo Saad-Filho
Fully revised and updated sixth edition of the internationally established guide to Marx's Capital.
"This expert guide has always been the very best available" – David Harvey
Economic Policies for Growth, Employment and Poverty Reduction: case study of Zambia
Victoria Chisala, Alemayehu Geda, Hulya Dagdeviren, Terry McKinley, Alfredo Saad-Filho, Carlos Oya & John Weeks
This case study of Zambia is the first in a regional project on Economic Policies for Poverty Reduction by the Bureau for Development Policy and the Regional Bureau for Africa of the UNDP that aims to reinforce, at the country level, programmes to strengthen the capacity for formulating and implementing macroeconomic, sectoral and structural policies that are more supportive of poverty reduction.
The Value of Marx: political economy for contemporary capitalism
Alfredo Saad-Filho
Karl Marx's writings provide a uniquely insightful explanation of the inner workings of capitalism, which other schools of thought generally have difficulty explaining. From this vantage point, Marx's works can help to explain important features and economic problems of our age, and the limits of their possible solutions. For example, the necessity and origin of money, the growth of the wage-earning class, uneven development, cycles and crises, and the relevant impoverishment of the workers, leading to debt and overwork.
The Elgar Companion to Marxist Economics
Edited by Ben Fine & Alfredo Saad-Filho
This Companion takes stock of the trajectory, achievements, shortcomings and prospects of Marxist political economy. It reflects the contributors' shared commitment to bringing the methods, theories and concepts of Marx himself to bear across a wide range of topics and perspectives, and it provides a testimony to the continuing purpose and vitality of Marxist political economy.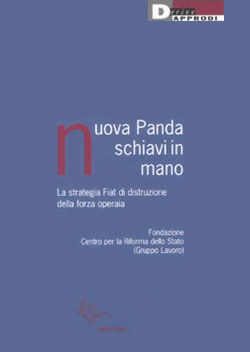 Nuova Panda Schiavi in Mano: la strategia fiat di distruzione della forza operaia
This Italian language book contains the results of research work involving workers and trade union representatives at the Fiat Giambattista Vico factory in Pomigliano d'Arco, Italy. The materials of the investigation were used together with secondary sources (statistical and company data, trade union documentation, press reviews, etc.) and brought back into a theoretical interpretative framework developed within the research group.
Economic Transitions to Neoliberalism in Middle-income Countries: policy dilemmas, economic crises, forms of resistance
Edited by Alfredo Saad-Filho & Galip L. Yalman
This edited collection offers a theoretical critique of neoliberalism and a review of the contrasting experiences of eight middle-income countries (Brazil, China, India, Mexico, South Africa, South Korea, Turkey and Venezuela). The studies included are interdisciplinary, ranging across economics, sociology, anthropology, international relations, political science and related social sciences. It will be of particular interest to scholars in industrial policy, neoliberalism and development strategy.
Political Economy of Brazil: recent economic performance
Edited by Philip Arestis & Alfredo Saad-Filho
This book assesses the performance of the first Lula government (2002–6) from different perspectives including economics, politics, history and social policy. While the focus is on Brazil, it also refers to the experiences of similar countries both for comparative purposes and for evidence of the success or otherwise of this 'new' era for Brazil.
Neoliberalism: a critical reader
Edited by Alfredo Saad-Filho & Deborah Johnston
A great resource for students of politics and economics, and anyone looking for a grounded critical approach to this broad subject.